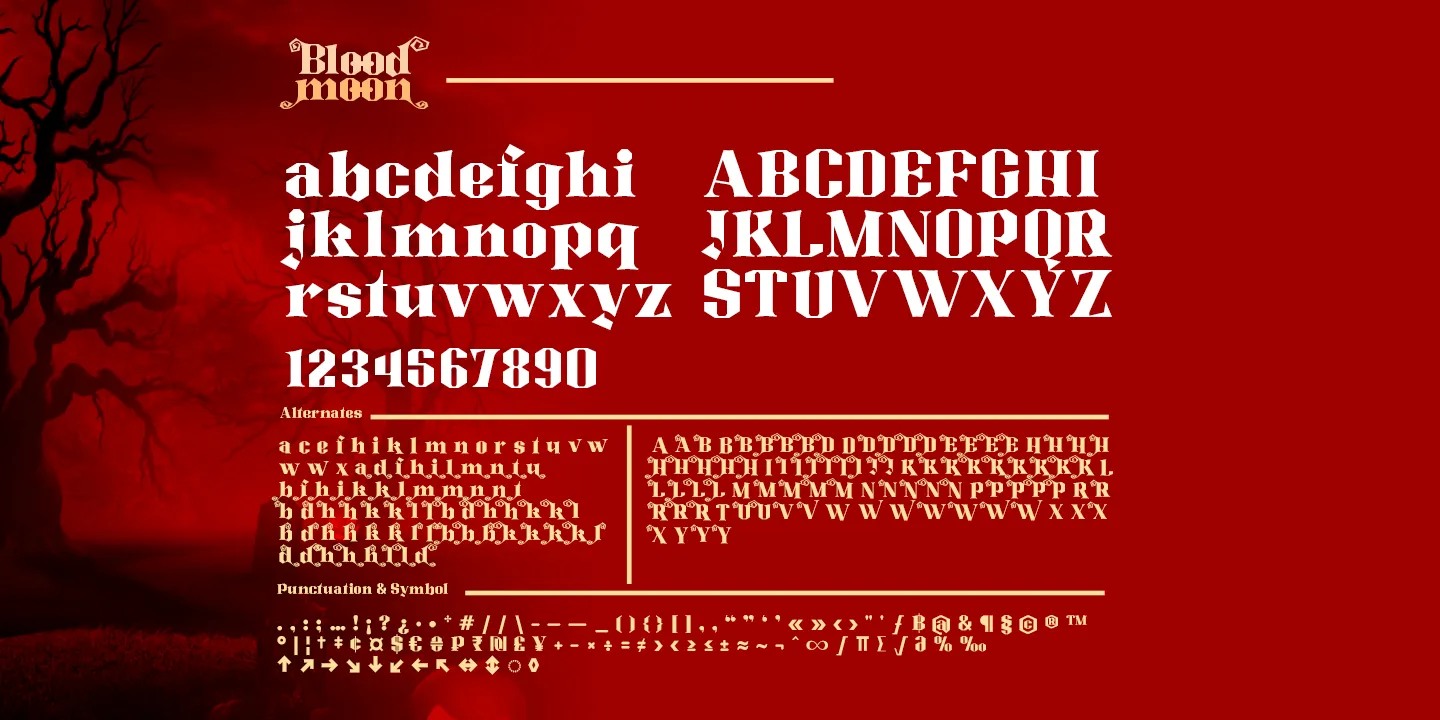 The quick brown fox jumps over the lazy dog
---
Blood Moon - typeface is a typographic creation that combines unique and captivating elements. Crafted specifically to celebrate the Halloween ambiance, this font carries the aura of a mysterious and thrilling Blood Moon - typeface" With an elegant serif design, the font seamlessly blends sophistication and tension, making it a perfect choice for various design projects.
Featuring distinctive letterforms and easily readable characters, Blood Moon - typeface ensures that conveyed messages through the text remain clear and effective. Each letter bears sharp lines that add strength and visual allure. Even with the accompanying touch of horror, the font maintains readability, rendering it suitable for a range of content.
Blood Moon - typeface design allows it to transcend beyond the Halloween or horror theme. The beauty and flexibility of its lines make it suitable for diverse design projects, spanning from casual to serious themes.
Equipped with a variety of OpenType features, the font provides flexibility in text styles and forms. From letter variants to alternate writing styles, Blood Moon - typeface enables designers to express their creativity more freely.
Moreover, another notable feature is its multilingual support. The font accommodates numerous languages, ensuring that the intended message can be accurately conveyed across different parts of the world.
Thus, "BloodMoon Serif" is not merely a Halloween-themed font with eerie blood moon undertones. Beyond that, the font represents a typographic work that combines visual strength with user-friendliness, granting designers the opportunity to explore various themes and ideas.
Languages Support :Afrikaans, Albanian, Asturian, Asu, Azerbaijani, Basque, Bemba, Bena, Bosnian, Breton, Catalan, Chiga, Colognian, Cornish, Croatian, Czech, Danish, Dutch, Embu, English, Esperanto, Estonian, Faroese, Filipino, Finnish, French, Friulian, Galician, German, Gusii, Hungarian, Icelandic, Igbo, Indonesian, Irish, Italian, Kabuverdianu, Kalaallisut, Kalenjin, Kamba, Kikuyu, Kinyarwanda, Latvian, Lithuanian, Low German, Lower Sorbian, Luo, Luxembourgish, Luyia, Machame, Makhuwa-Meetto, Makonde, Malagasy, Malay, Maltese, Manx, Meru, Morisyen, North Ndebele, Norwegian Bokmål, Norwegian Nynorsk, Nyankole, Oromo, Polish, Portuguese, Quechua, Romanian, Romansh, Rombo, Rundi, Rwa, Samburu, Sango, Sangu, Scottish Gaelic, Sena, Shambala, Shona, Slovak, Slovenian, Soga, Somali, Spanish, Swahili, Swedish, Swiss German, Taita, Teso, Turkish, Turkmen, Upper Sorbian, Vietnamese, Vunjo, Walser, Welsh, Western Frisian, Yoruba, Zulu